In the past two years, 4K, curved surfaces, quantum dots, OLEDs and other display technologies have been successively bombarded. In 2016, the TV industry did not calm down. HDR has emerged as a brand-new technical term in major TV brands since its inception. Type, this new technology has completely penetrated into the joint venture, domestic and even technology limited Internet TV brands.
However, behind the continuous emergence of HDR television products, content is rarely mentioned as another HDR brand TV brand. To give a less appropriate example, it is like you bought a sports car, manufacturers tell you its engine performance What is so outstanding, but the problem is that you can't run without gasoline, and the HDR content is much less than that of gasoline. So unlike the hardware industry that has a lot of hardware in the industry, the industry really needs HDR sources from content providers. Finally, in the near future At the press conference held by Skyworth OLED TV S9-I, the two brands that held Penguin TV as the content source finally brought home the debut of HDR's entire industry chain.
Of course, the content of this issue is not an advertisement for Skyworth and Tencent. What I want to tell everyone is that without HDR sources, HDR TV in your home is not as beautiful as TV manufacturers have described.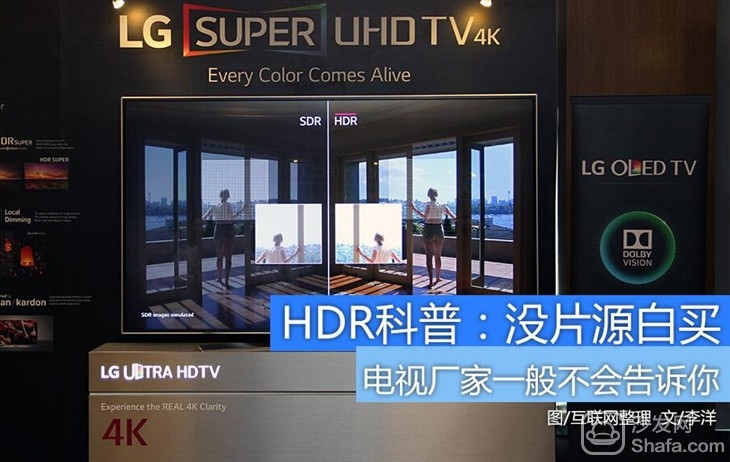 --The Inevitable Trend of Backlight Innovation in HDR Technology TV Industry ----
Before officially launching today's popular science content, we need to pave the way for the technical advantages of HDR, which is based on our previous article on literacy between bright and dark HDR TV display technologies and streamlined refining ideas.
Here are some facts you need to know about HDR TV:
This technology is to restore the human eye to the real perception of light and HDR technology TV through backlight technology can effectively improve the brightness contrast of the display screen HDR TV does not make the quality significantly improved if there is no HDR source
HDR was the first shooting technique popularized in the photography industry. Because of the limitation of the camera's latitude, single-shot exposures cannot simultaneously retain bright highlights and deep shadows without losing details. For this reason, photographers often need to shoot with fixed cameras. Synthesizing pictures with different exposure parameters, the ultimate goal is to be as close as possible to the real scene we see.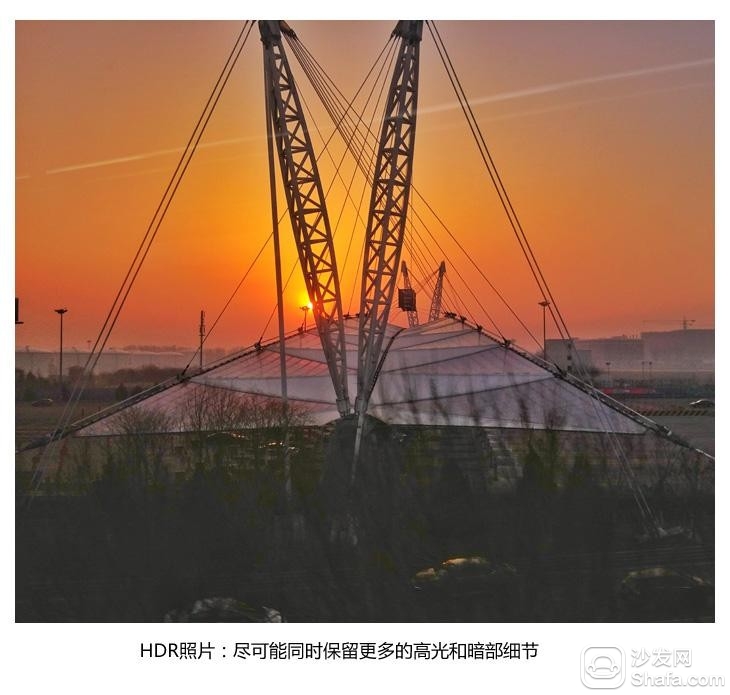 The above two pictures can be combined to get the HDR style above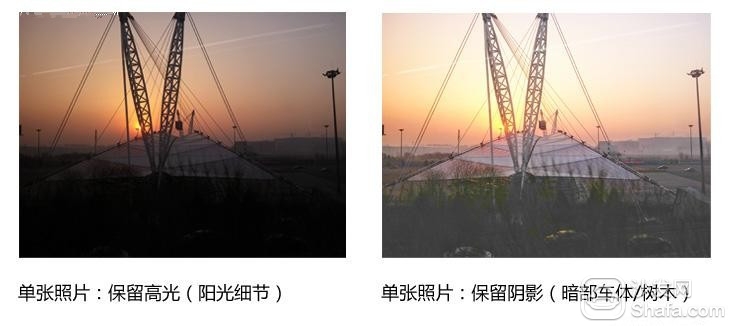 TV manufacturers are talking about HDR similar to photography, but the technical process involved in the video industry is more complicated. To watch HDR movies, HDR cameras are required to capture high-dynamic-range original video sources and retain high dynamics when encoding. The range of information ultimately requires that the TV be capable of decoding and that the backlighting capability can restore HDR information. In short, the TV needs to support HDR. The content you play is also an HDR source. Both are indispensable.
When these two conditions are met, we will obtain high-light and shadow ranges that are much higher than those of the existing Standard Dynamic Range (SDR) TVs through HDR TV sets. For details, please refer to the following figure. The first set of comparison charts shows that HDR TVs have more Strong 'brightness', no matter the smooth car paint or lighting atmosphere is more emotional. The second scene is to compare the dark field, the shadow logic expressed by HDR TV is obviously more true.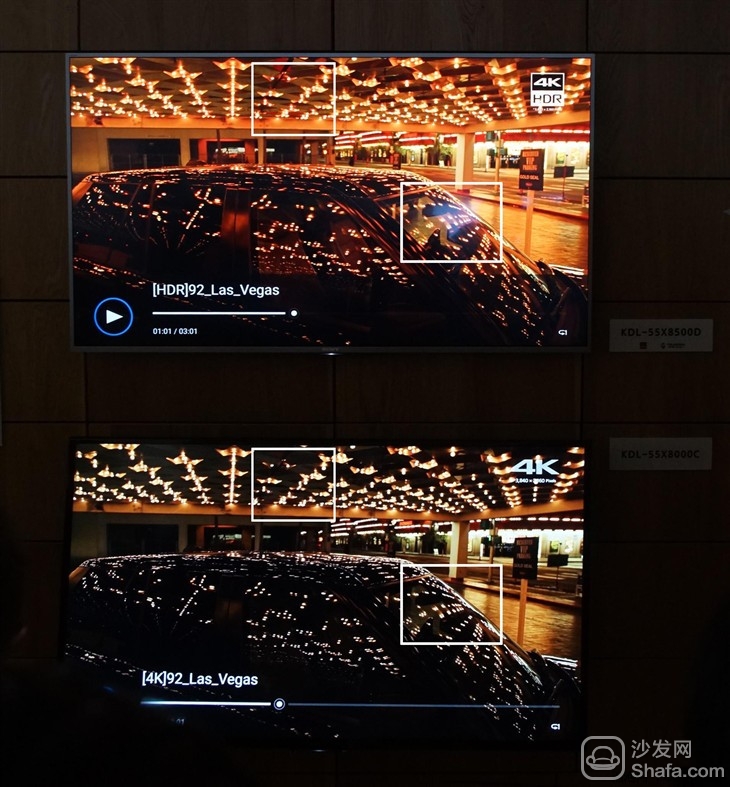 On HDR; Under SDR, pay attention to the contrast light and body highlights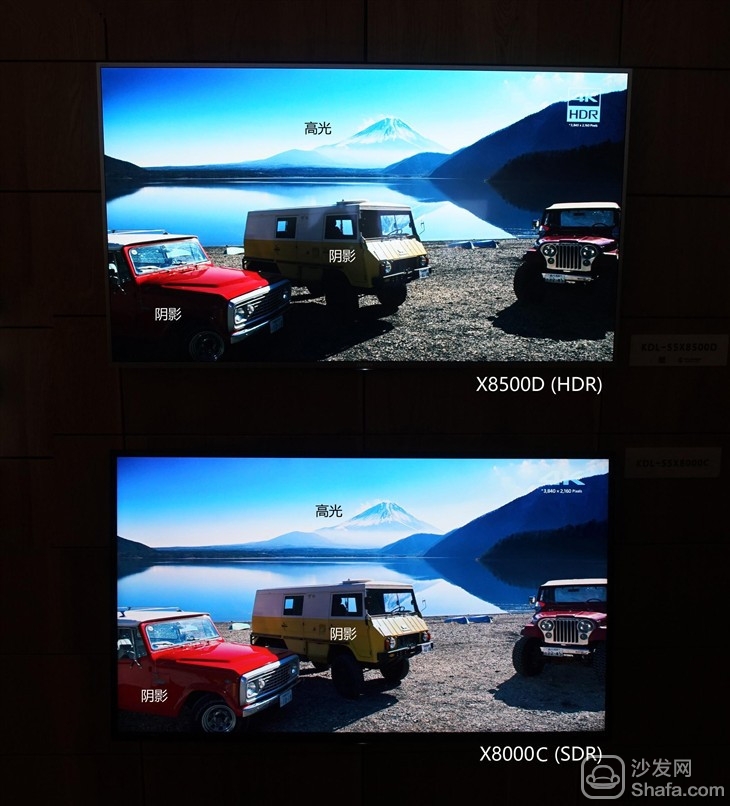 Pay attention to the shadow of the backlight of the body
From the comparison, it can be seen that the visual sensory enhancement of HDR TVs is more obvious than that of ordinary SDR TVs. However, to obtain this advantage, it is necessary to have both HDR TV and HDR film sources. For the current technical situation, the hardware The software must be ahead of others, in other words: At present almost every TV brand has HDR TV, but the real HDR source is very scarce, non-presentation film type HDR movies, TV series content is even more rare.
- How does HDR TV play normal non-HDR film source?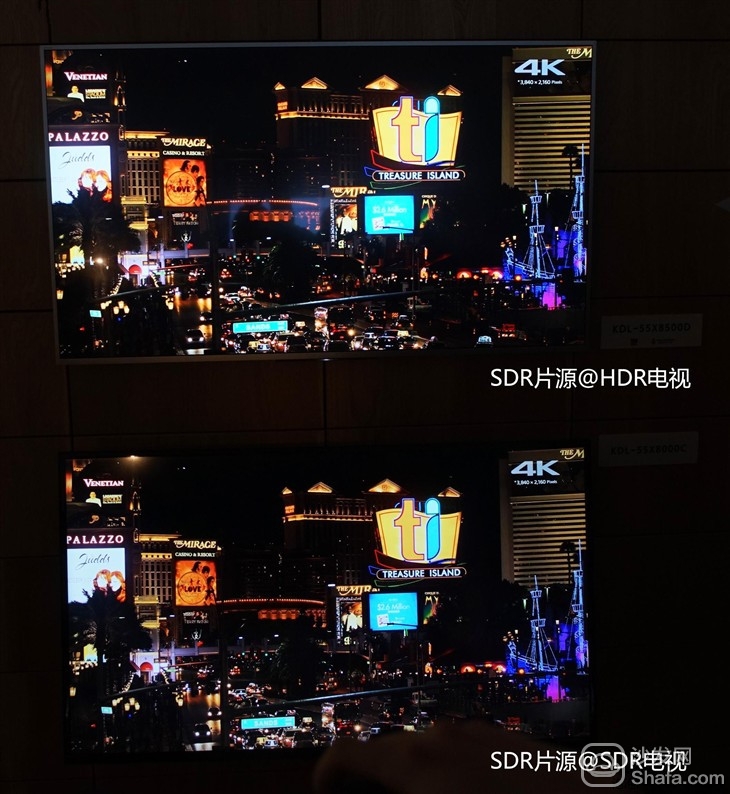 Same screen shot of SDR 4K video on HDR and SDR TVs
Everyone who sees the picture should have already received the answer. When HDR TV plays a normal dynamic range video, there is no obvious improvement in picture quality, even if it is difficult to feel the improvement in picture quality. Well, we can draw a conclusion that there is no HDR film. Source, HDR TV bought back with high prices is not that different from ordinary TV. In general, HDR TV backlighting system is definitely better than SDR products, but in SDR film source, higher specification backlighting system is not sufficient. The function (the original information of the film erases highlights or shadow information), so when there is no HDR source, we just look at the HDR TV as an ordinary high-end TV, nothing special.
--Why is HDR technology so good but has not appeared?----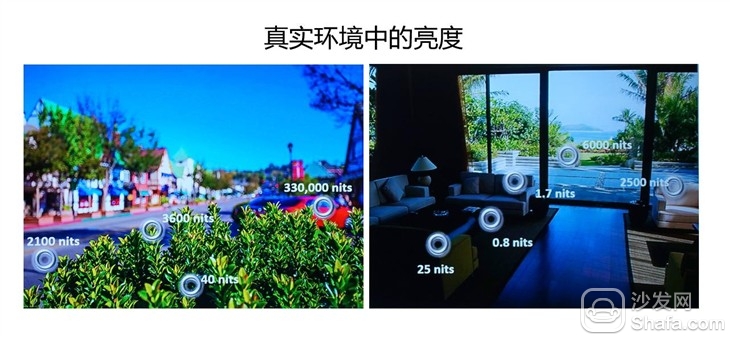 The light field information in the master film shot by the movie may look like the above image. The existing TV can only express a small part of it.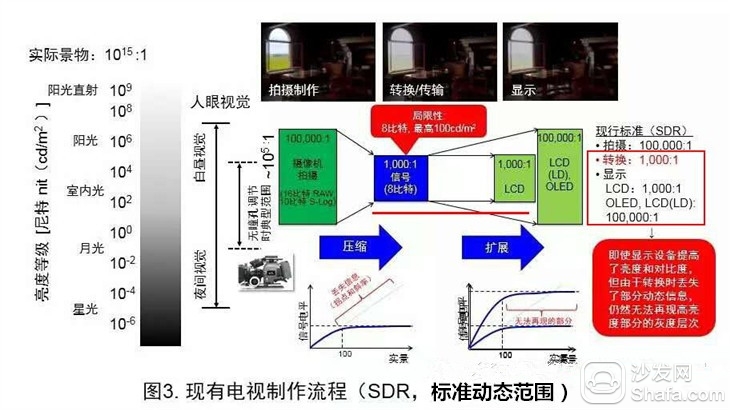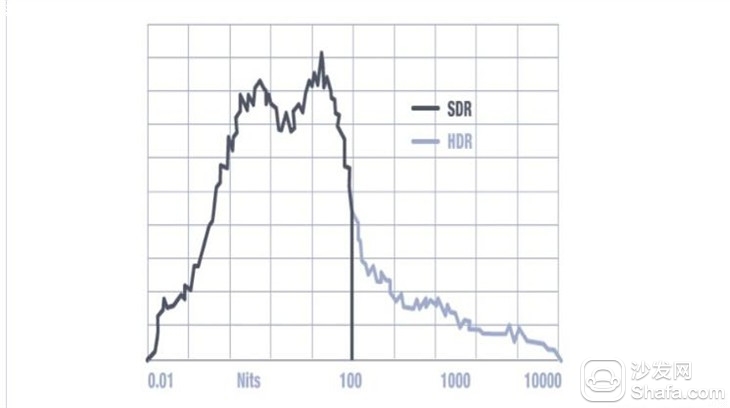 After the SDR encoding output, 100 nits or more of the image information is lost
As we mentioned before, HDR content on the TV system needs to be shot, code transmission, terminal display, etc. All the HDR processes can be implemented. The HDR TV of the terminal only started to appear this year. This is supported by the hardware architecture. HDR decoding, backlighting technology can meet the HDR standard and other prerequisites before the mature results. From this point of view, even if the previous HDR content can not let consumers watch the effect of HDR movies, HDR TV before the appearance of 'toss' HDR content It doesn't make sense.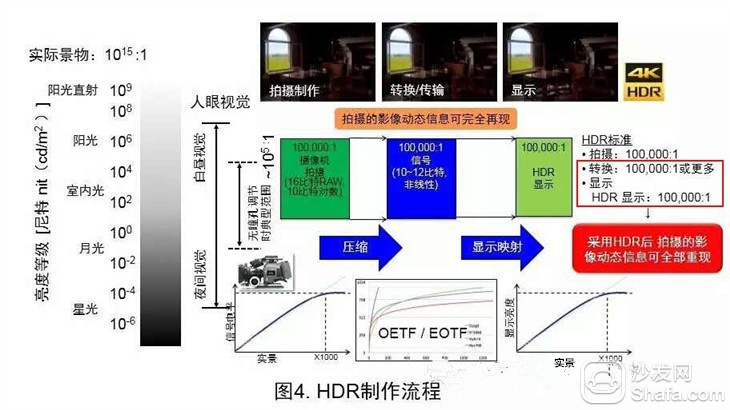 HDR-encoded video can reproduce ultra-high dark dynamic range of 100000:1
Another point is that HDR content shooting has only gradually become popular in the past year or two. We have only begun to contact the budding stage of HDR film source content in card house, Mad Max and other new films and TV dramas. As for transmission, according to Tencent video living room products According to Zhang Zhenning, deputy director of the center, HDR is about 25% larger than SDR chip source size. This is mainly due to the 8bit upgrade to 10bit color depth coding, but HDR has a huge inherent advantage of its unrelated resolution, 2K resolution. The HDR version can be produced in the same movie, so the HDR content is much easier to spread than the current 4K video source.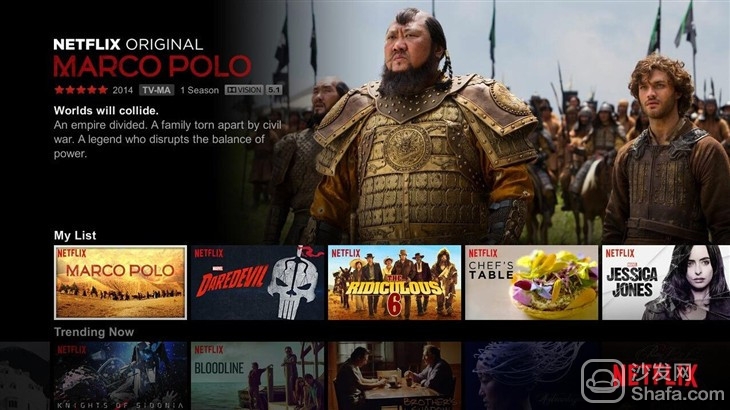 Netflix supports Dolby Vision's drama series Marco Polo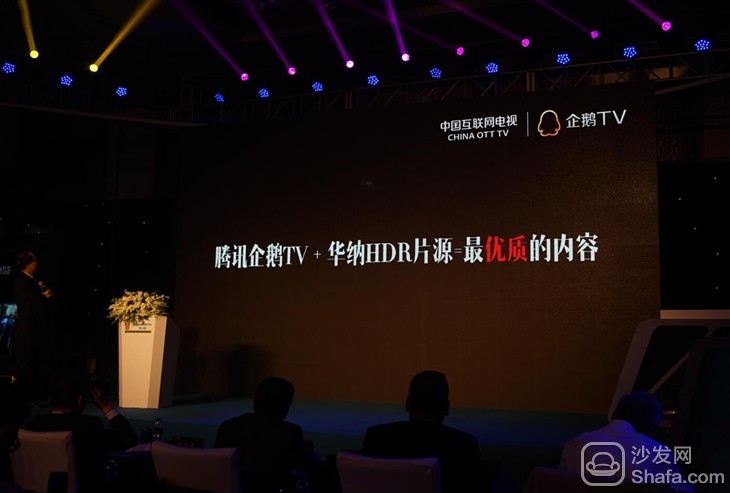 Skyworth and Penguin TV Bring HDR Sources to Domestic Audiences for the First Time
In fact, at present, foreign video sites such as YouTube and Netflix can already broadcast HDR video on demand. At present, what I have come across is the domestic HDR system debut brought by Skyworth OLED TV S9-I and Tencent's Penguin TV. , Penguin TV as Tencent video's Internet TV business brand, it will Tencent video enjoy Warner 4K, HDR content exclusive copyright through the pre-installed Penguin TV platform TV to the national users, it is currently the only one we can reach out to HDR video service.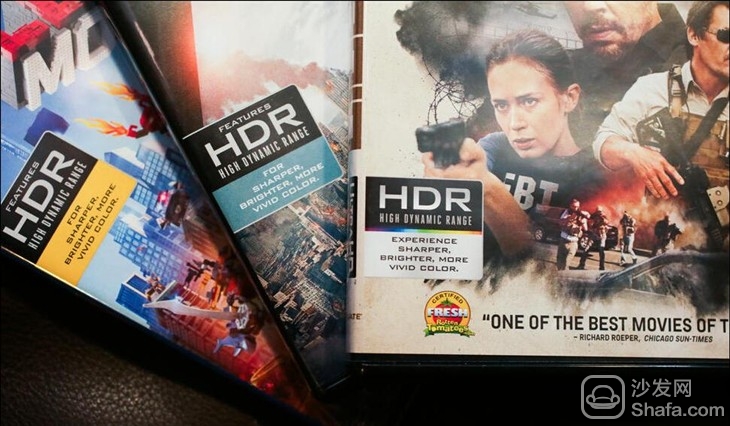 Regardless of whether it is for discs or streaming video, 1080P HDR movies are more realistic at this stage.
It can be foreseen that there will be more HDR content coming in 2016. Whether we are amateurs or amateurs of Tencent video, we believe that HDR is more easily perceived by consumers. Unlike the 4K products that people are widely concerned about, past consumers Frequently complained about the fact that 4K TVs were purchased but there was no content to watch, and the playback of '4K' content on the Internet did not feel any noticeable improvement in resolution. This is because 4K video needs higher bitstream to meet the ultra-resolution restoration. High-level, low-compression 4K video files may be hundreds of gigabytes in size, which is a bandwidth requirement that cannot be carried by current global network environments.
The advantage of HDR content is that it does not matter the resolution. Even 480P content can produce HDR standard video. Moreover, our perception of light and color is much higher than the sharpness, which is why we think that HDR video in 2016 will be developing by leaps and bounds.
--Selecting HDR TV Notices There are two types of HDR standards: There is a controversy about the 'team'
If you are preparing to embrace HDR technology, you should also know another thing: Of course, the HDR standard is not yet completely unified. The two mainstream HDR technology schools currently are HDR10 and Dolby Vision (BBC's HLG is more niche). Not completely compatible. We can simply look at Dolby Vision as a high-end version of HDR10. HDR-enabled TVs that support Dolby Vision can be backwards compatible with HDR10. However, only HDR10-capable TVs cannot play Dolby Vision content. This is because Dolby Vision's hardware and video coding technologies are all superior to those of the HDR10. It can process scene-by-frame frame-by-frame frame ratios, so Dolby Vision is significantly better than HDR10.
Dolby Vision Certification LOGO
According to our understanding, Dolby Vision's professional team will perform color adjustments based on the master film. In addition, during the HDR production phase of Dolby Laboratories, it will perform balanced training based on SDR, 1000 nits of home and 10,000 nit professional display terminals. The backlight performance of the top HDR models can be used while satisfying the SDR TV output with Local dimming so that different devices can watch the original video as much as possible. Therefore, at this stage, Dolby Vision technology is supported. TV has more technical advantages.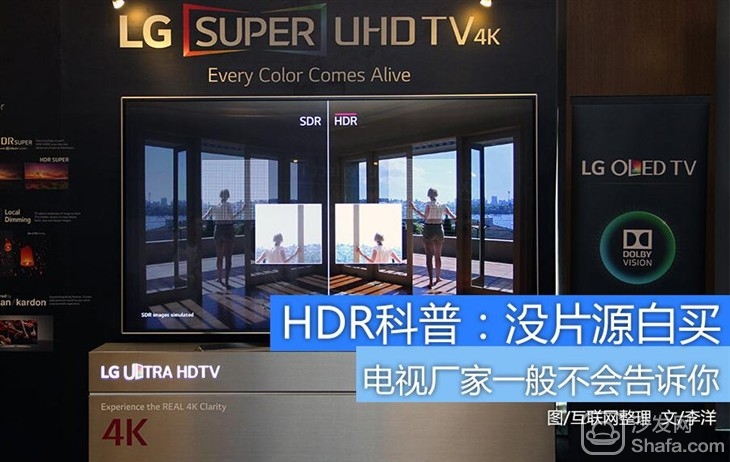 In the current technology situation, if you want the most powerful HDR hardware architecture, select LG, Sharp, Skyworth, TCL, these high-end HDR TVs supporting Dolby Vision technology are relatively more reliable, so far the brand announced to join the Dolby Vision camp is not For example, Skyworth S9-I and TCL X1 (off-line channels) are already available. If you select the HDR10 standard, any current TV that claims to be able to decode HDR movies can be used.
Phone Wireless Earphones,Sports Bluetooth Earphone,Best Cheap Wireless Earbuds,Wireless Earbuds For Android
Dongguang Vowsound Electronics Co., Ltd. , https://www.vowsound.com