[High-tech LED reporter Zhao Hui] "After the opening of the year, our orders are basically saturated, and now the production line simply can not keep up with the demand for orders." Liu Hongchuan, general manager of Shenzhen Dechen Optoelectronics Technology Co., Ltd. told "High-tech LED" reporter.
On April 3, G20-LED Summit member Hongli Optoelectronics (SZ.300219) released the "2013 First Quarter Results Forecast". According to the announcement, Hongli Optoelectronics' total revenue in Q1 2013 was 121.4435 million yuan -14,347,800 yuan, an increase of 10%-30% over the same period of the previous year.
Ding Feng, deputy general manager of Hongli Optoelectronics, said at the CMO meeting of the G20-LED Summit that the company started well in the first quarter of 2013, especially the sales of small and medium power package devices were optimistic.
The 2013 Q1 performance forecast released by another packaging giant Guoxing Optoelectronics (SZ.002449) also indicated that due to the increase in sales revenue and the rebound in gross profit margin, the net profit of Q1 in 2013 increased by 0%-10% year-on-year.
"The packaging orders in the first few months of this year have already made our production line run at full capacity, mainly because the downstream application demand in the domestic market is increasing." Luo Jing, vice president of marketing of Zhejiang Zhongzhou Optoelectronics Co., Ltd., said that since the beginning of this year, the tradition Lighting companies have increased the intensity of LED transformation, including a number of lighting companies including NVC, Hongyan, Delixi, etc. have put a lot of big orders to the packaging factory.
In terms of foreign markets, Luo Jing said that the demand for infrastructure in large-scale events such as the World Cup in Brazil is good, and the demand for lighting in South America is also being released this year.
"In this year's various types of packaged devices, 2835 is the best-selling and most demanding product." Luo Jing told the "High-tech LED" reporter that from the current situation, 2835 has gradually become the mainstream of the market, 3014 may slowly Eliminated, only used in some special areas.
Luo Jing said that the 2835 has a wide range of applications, and its package form is flexible. From the perspective of light efficiency and cost performance, 2835 should be the best. At present, the 2835 device is widely used in indoor lighting for bulbs, downlights, spotlights, and lamp picking.
Affected by the saturation of orders, some packaging manufacturers have also begun to selectively select customers, giving priority to orders with timely payment and high gross profit margin. "In the next step, we will also eliminate some customers in a targeted manner, focusing on those orders with high gross profit margins." Liu Hongchuan said that the overall gross profit of the packaging industry fell too fast last year, and this year's downward trend has slowed down.
High-tech LED Industry Research Institute (GLII) statistics show that as of the end of 2012, the main products of indoor lighting, such as LED fluorescent tubes, LED downlights, LED panel lights, have more than 30% of product selection 2835, 5630, 3030, etc. Power products as a light source, GLII is expected to increase rapidly in 2013.
GLII believes that the average price of China's LED lighting white-light packaged devices fell by more than 30% in 2012. The rapid decline in the price of packaged devices has prompted packaging companies to develop products with high profit margins and strong demand in the application field. For example, in 2835, the power products are favored by application companies with high luminous efficiency and high cost performance. Their gross profit margin exceeds 30%, which has become a new profit growth point for packaging companies.
"Although from the current point of view, the packaging company's orders are relatively saturated, but it can not be said that the packaging industry has completely emerged from the predicament of last year, the specific situation depends on whether the last few months can continue the first quarter of the market Luo Jing said.

Semi-harvester for Agriculture:

The semi-feeding harvester can complete the harvesting, delamination, separation of stems, removal of sundries and other processes at one time, and the Rice Harvester machine for obtaining grain directly from the field is mainly suitable for rice harvesting, wheat harvesting, and this reaper machine can adapt to deep mud feet. Under the serious harvest conditions, the grain cleanliness after harvest is very high, and at the same time, the stem integrity after harvest can be guaranteed, so that farmers can complete harvesting and granulation with a single operation, thus saving manpower and material resources and greatly reducing the burden of farmers.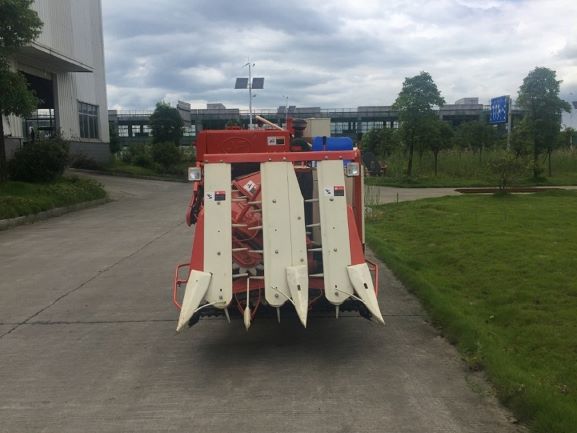 Semi-harvester for Agriculture Technical Parameters:
1. Size: 3650*1800*1820 (mm)
2. Weight: 1480KG
3. Engine Fuel: Diesel
4. Harvest numbers line: 3
5. Harvesting width: 1200 (mm)
6. Cutting height range: 50-150 (mm)
7. Threshing depth control system: Manually
8. Adaptation crop height: 650-1200 (mm)
If you have any questions, please contact us directly. Crawler tractor for agriculture are produced by Hunan Nongfu with high quality and good appearance.
welcome you can visit our factory for inquiry, please send mail directly to us.
Semi-harvester for Agriculture
China Harvester Machine, Rice Harvester, reaper machine, Agriculture equipment
Hunan NongFu Machinery&Electronic.Co., Ltd. , https://www.nfagmachine.com