With Light Source:
With Light Source
LED Chips Brand:
Bridgelux
Installation Spacing:
19-23m
Working Mode:
Light Control /Time Control/ Microwavee
Mono PV Module Power:
65W/18V
Lithium Battery Capacity:
27ah 12.8V ,LiFePO4
Charge Time:
6-8 Hours Direct Sunshine
Warranty:
3 Years for The Whole Light
Transport Package:
Carton Package
Specification:
1030*400*180mm
2017 new Smart All in one /Â Intergrated Solar Street Light.
Airship series solar street light, your best product to occupy the market.
Advantages:
1.This type is very convenient for customers to customize the light under their requirements.
2.Microwave motion sensor system, light control system, time control system and time + microwave control system perfectly, ensure whole system more energy-efficient.
3.Easy installation-No power required, no cables required, easy installation within several minutes.
4.Solar panel and light angle adjustable-Adjustable in vertical direction, ensure maximum efficiency of photoelectricity conversion.
5.Good heat dissipation-Solar panel, battery and light body are not connected directly, LED light and lithium battery are not covered by a panel any more, longer lifetime.
6.All the materials are made of die-cast aluminum, good heat dissipation, high level in wind resistance, salt resistance, humidity resistance.
7.Lithium battery-Adopt lithium-ion ferrous phosphate battery to replace traditional gel battery, longer lifetime.
8.Modular design-All components are modular design and in standardized production. LED light and battery can be replaced easily if needed.
9.Airship shape design, Bluesmart
'
s most innovative design.
10.The lithium battery is in a die-cast aluminum alloy box, which are more waterproof, the lifetime of battery getting longer.
11.The whole light is lighter, so the transport cost is less.
12.Wireless application-Integrated solar panel, LED, lithium battery, controller and other accessories into one system, simple and stylish.
 
Feature:
1.Beautiful and modern appearance, simple and fashionable.
2.Use solar green energy, environment friendly, saving energy.
3.Low voltage driving, CE, RoHS and FCC have passed, completely meeting the European Union standard.
4.No
Hg, Pb or other hazardous materials, no radiation, safe to human body.
5.Protection grade IP65, TVS lightning protection.
6.Long lifetime of whole light, low maintenance costs.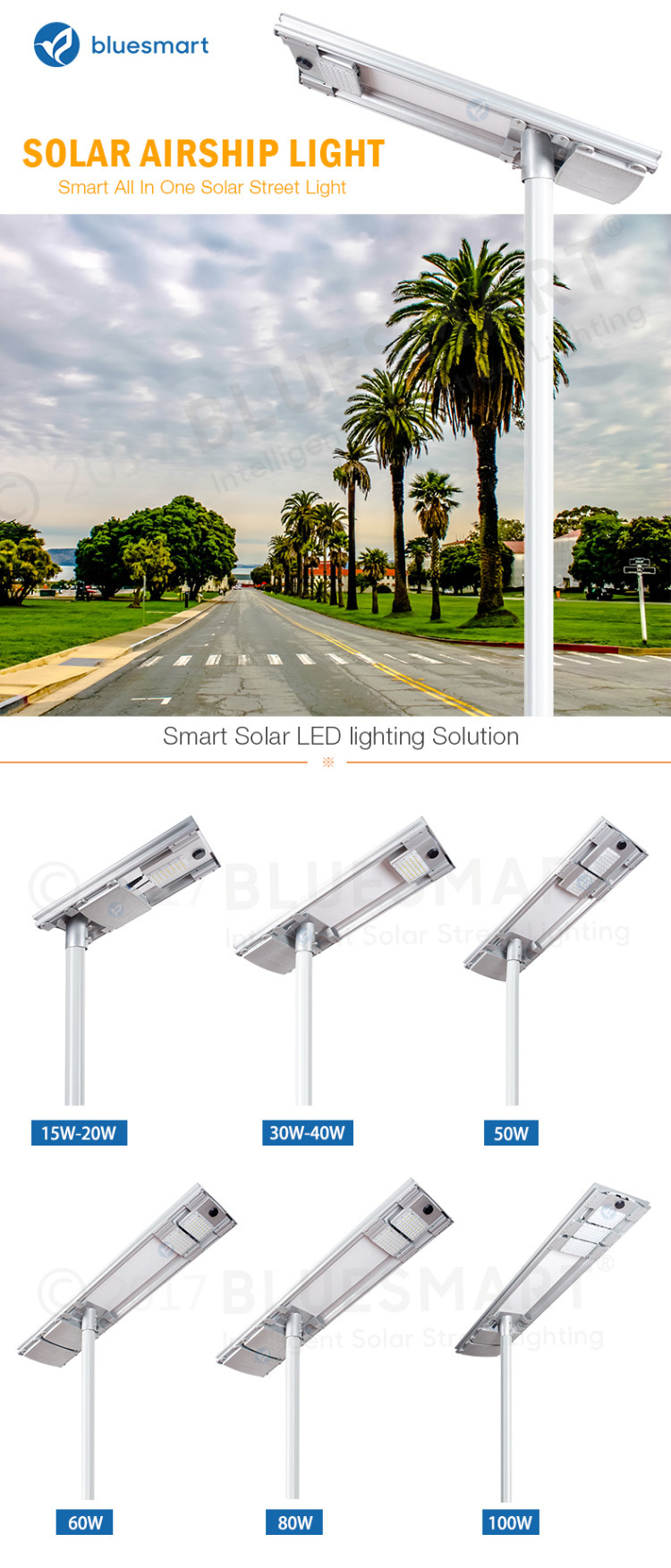 Say Goodbye to the old all in one solar street light, realize the features of latest all in one solar street light 
Specifications:
 
 

Solar Airship SERIES Specifications

 

Model No
BS-AS-30
BS-AS-40
Physical Parameters
 
 
Mono PV Module Power
55W
65W
Lithium Battery Capacity
21AH 12.8V
27AH 12.8V
Micowave sensor

 

Yes
Yes
Sensor Area
15m
15m
Illumination(stand by)
30%
30%
Delay time
10s
10s
Control mode
light control /Â time control /Â microwave control /Â time+microwave control
charge time

 

6-8 hours direct sunshine
discharge time

 

60h
working time
3-5 consecutive rainy days

 

Material of body
aluminum alloy, die-casting aluminum
Lifespan
50,000hours
Light Parameters
 
 
Light Output Factory Settings
30W
40W
Luminous
4800-5400lm
6400-7200lm
Optical Distribution
wide beam lens
Visual Angel
140x70
Color Temperature
3500K-6500K

 

CRI
75RA
Light Control Voltage
5V
working time
Bright Mode
14h
14h
DIM Mode(30%)
60h
60h
Enviroment Requirement

 

 
 
Charge Temperature

 

0°C-60°C
Discharge Temperature

 

-20°C-60°C
Storage Temperature

 

-20°C-45°C
Installation Suggest

 

 
 
Height Recommended

 

5-6m
6-7m
Installation Distance
16-19m
19-23m
Light Pole

 

60-76mm
60-76mm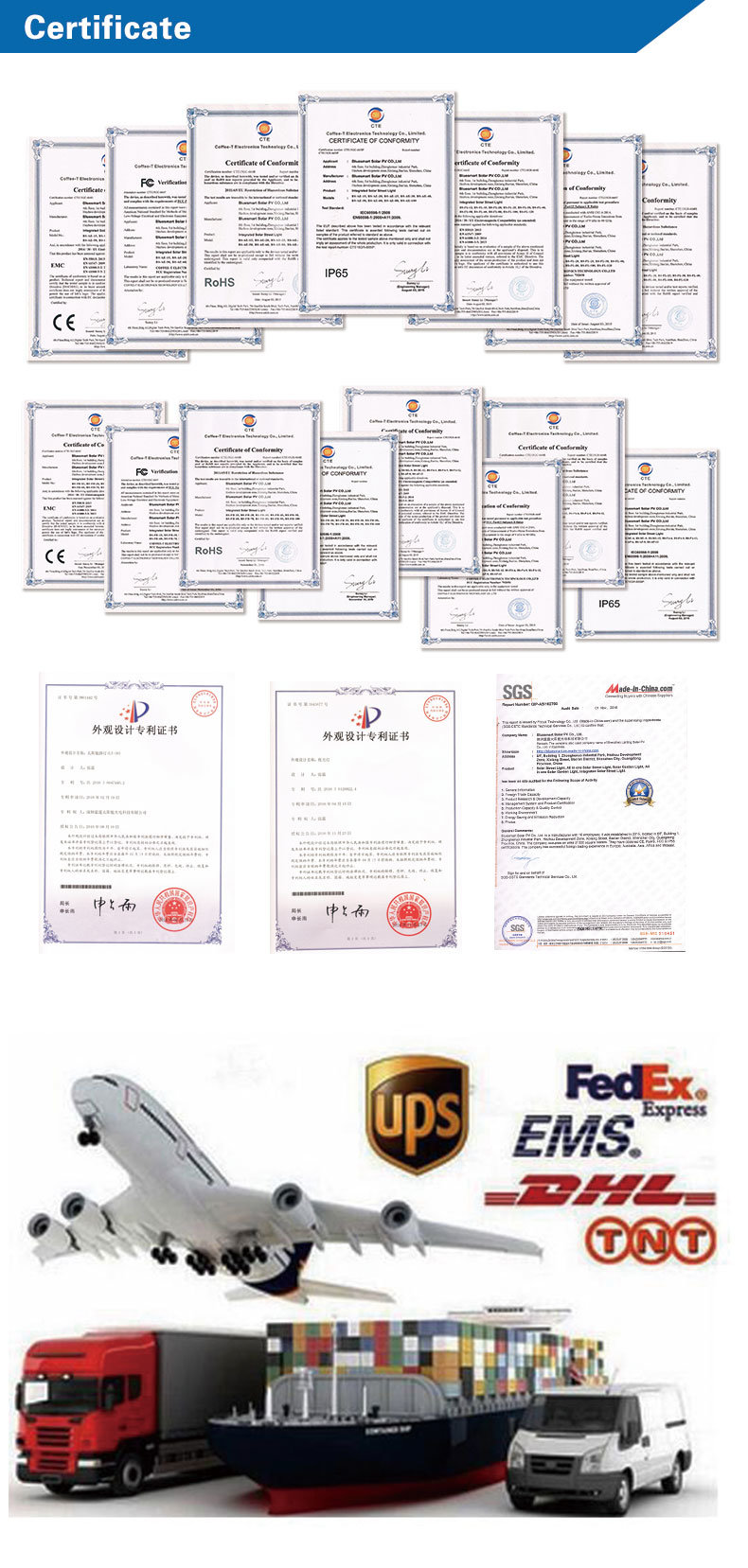 About Bluesmart:Â 
Bluesmart designs and manufactures in shenzhen innovative smart solar street lighting solutions specifically suited for extreme climate conditions.
Provide Access To Energy
Renewable Energy is all around us but we do not have the right infrastructure in place to harvest that energy. 1.3 billion people have no access to electricity, with little chance of being eventually connected to the grid, especially in rural areas. Bluesmart provides public lighting, a first lever of electrification, with a real impact on economic and social daily life. Through our products we want to promote a lifestyle of using alternative sources that will reduce dependency on fossil fuels for energy
Creat Smart Street Lights
Powered by clean and free energy, your footsteps and the sun. Bluesmart Smart Solar Street Lights, Smart Solar Garden Lights, All In One Solar Street Lights, will illuminate streets, parks, pathways, parking lots, highway, corporate and university campuses ect.
Bluesmart: reliable and durable lighting solutions for all, at last!

For more details please contact with   Miss Crystal: +86-152-7081-4924   
LTE 4G Android rugged smartphones are equipped with 4.7" HD screen with 1280 x 720 resolution, Qualcomm MSM8916 4core ARM Cortex A53 processor core, run on Android 4.4.4 system and 13.0MpHD CAMERA support autofocus(sony chip) and support all network Dual sim cards Mode. The LTE 4G Rugged Smartphone have dustproof, shockproof, waterproof function, so the LTE 4G Rugged Smartphone has always been popular with young users who love outdoor sports like diving, surfing, alpinism,hiking and so on. With its professional waterproof, dust and excellent anti fall, anti rolling performance, to be able to do the abnormal weather conditions and special occasions. The LTE 4G Android rugged smartphones is a good choice for outdoor users.
LTE 4G Android rugged smartphones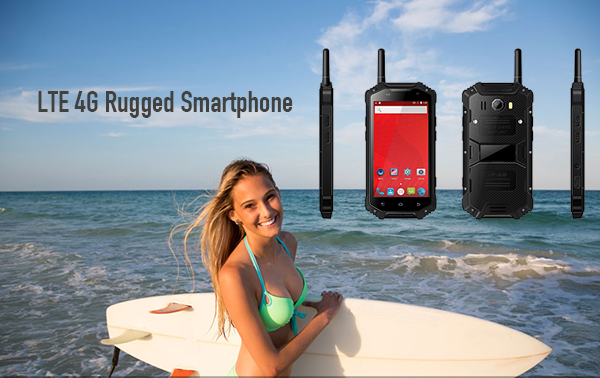 LTE 4G Rugged Smartphone
LTE 4G Rugged Smartphone,LTE Mobile Phone,LTE 4G All Network Cell Phone,Qualcomm LTE Mobile Phone
NLJ Industrial Co.,Ltd. , http://www.winner-ruggedphone.com