First, system overview
As an important security measure, video surveillance has a long history of development. With the development of technology, the accuracy of video cameras is getting higher and higher, and the control of front-end devices is becoming more and more convenient. With the rapid development and promotion of computer technology, almost all industries are involved in the wave of digitalization. The monitoring industry has been deeply impressed with digitalization at the beginning of the 21st century. Many new digital surveillance functions derived from digital surveillance instead of traditional technologies are gradually becoming mainstream video surveillance technologies and widely used in various industries. .
Second, the system requirements
For large-scale surveillance systems, the front-end camera is generally more than 1000 channels, video retention time needs to be at least one month or more, the system must meet the following functional requirements:
相对 Storage is relatively centralized, and management is absolutely centralized
系统 System data has high security
硬件 Hardware devices have high performance
系统 The system reserves sufficient expansion
Third, the system description
At present, EVOC has cooperated with a large number of video surveillance equipment manufacturers and system integrators. The EVOC industrial server products have been obtained in the Pingan City project, large and medium-sized branches of banks, centralized monitoring and management systems for branch networks, and public security and subway monitoring projects. widely used. Using EVOC's customized dedicated servers has increased the diversity of customer solutions and improved the brand value of customers.
Fourth, the system block diagram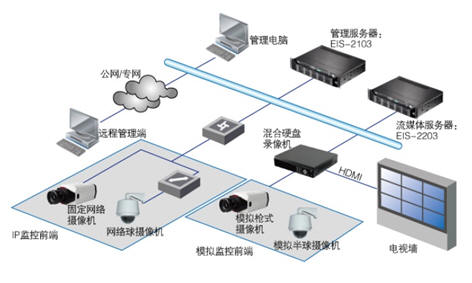 V. Product List
EVOC Second Generation Industrial Server EIS-2203/2103
EIS-2203: 2U Dual Industrial Server with 2 Xeon E5-2600 Series CPUs
EIS-2103: 2U single industrial server supporting one Xeon E3-1200 series CPU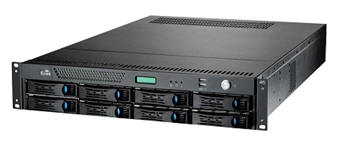 VI. Advantages of EVOC products
 Industrial grade quality, all the devices of the whole machine adopt industrial grade materials, ensure fault-free operation within 5 years, 7-year supply period;
åŠ å›º Reinforced design, start-up vibration 1.0 G, shutdown vibration 2.0 G, ensure trouble-free operation on the industrial site, and smooth transportation;
存储 storage temperature -40 °C ~ +70 °C, 0 °C ~ +40 °C temperature without failure;
 BIOS integrated EVOC patented technology BPI, upper software application GPIO, watchdog, Monitor more convenient, providing graphical interface support;
 BIOS storage space reserved virtual disk: customer LOGO, a key to restore the BIOS, the client secret file;
系统 The system has real-time detection: CPU temperature, hard disk temperature, memory status, network traffic, fan speed, system temperature, power status, and supports LCD screen display and buzzer failure alarm mode;
客 Customized services: internal three defenses, customized panel customization, customization of hard disk bits, internal architecture customization, etc.
上 On-site maintenance service: Enjoy the nationwide site visit service of EVOC.
Seven conclusions
EVOC Industrial Server has independent intellectual property rights. The product is integrated into EVOC's years of industrial control technology, including software, hardware, and structural design. The product incorporates multiple patents. Customization, support a variety of industrial power access, support high and low temperature, EMC defense level, personalized ID design, highlight product reliability and differentiation, enhance customer brand value!
What is a Rigid Flex PCB?

Rigid flex printed circuit boards are boards using a combination of flexible and rigid board technologies in an application. Most rigid flex boards consist of multiple layers of flexible circuit substrates attached to one or more rigid boards externally and/or internally, depending upon the design of the application. The flexible substrates are designed to be in a constant state of flex and are usually formed into the flexed curve during manufacturing or installation.

Rigid flex designs are more challenging than the design of a typical rigid board environment, as these boards are designed in a 3D space, which also offers greater spatial efficiency. By being able to design in three dimensions rigid flex designers can twist, fold and roll the flexible board substrates to achieve their desired shape for the final application's package.

Benefits:
More components in a smaller space
Improved signal quality and integrity
Easy to test
Very reliable in harsh environment
Reduces system costs
Weight reduction

Our expertise – your profit!

The circuit board is no longer thought of as simply something to hold other elements. In fact, it is part of the system and offers a diverse range of options to integrate different functions. We want to support our customers as early on in the development process as possible so that they can get the most out of our wide-ranging expertise. In this way we can succeed in finding the perfect solution for the specific situation whilst keeping an overview of the entire system.

Rigid-Flex PCB,Rounded Rigid-Flex PCB,Green Rigid-Flex PCB,Complex Rigid-Flex PCB
Storm Circuit Technology Ltd , https://www.stormpcb.com